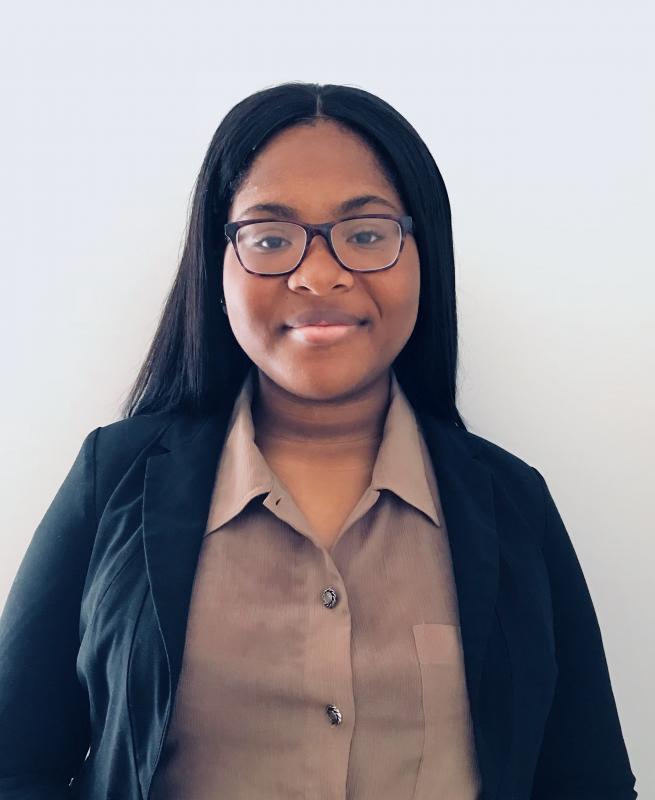 After graduation, I intend to gain my professional engineers license and work in consulting for life safety analysis.
Name: Favour Odilatu
Hometown: Baltimore, Maryland
Graduation date: May 2019
Why did you choose to study at the University of Maryland?
The University of Maryland is a pretty popular school where I am from. I believe that most students in Maryland know of the caliber and reputation of our school. I had visited the school many times in middle and high school and the overall campus vibe always enticed me. But the sheer amount of majors and possibilities that I saw when starting my college search drew me in a larger way to Maryland and the engineering school.
How did you hear about the Dept of Fire Protection Engineering, and what attracted you to the major?
The first time I heard about fire protection was at the First Year Student Experience hosted the summer before freshman year by the University. Dr. Sunderland was one of my teachers at the program and he shared with us a little about the field and his research. But before even starting college I knew two things. One was that I wanted to make an impact. I wanted to know that I was able to make a change or improve something that all people can enjoy and fire protection allows me to do so. Secondly, I highly value safety. And I know that everyone, no matter what race, religion, or gender values their safety and the safety of their loved ones. So when I researched and realized that I could be apart of a profession that is dedicated to keeping structures and systems safe for everyone, I knew it was where I belonged. Ms. Hollywood, my academic advisor, also played a big role in my switch to fire protection. I actually started my first semester as a civil engineering major. After researching the program and many, many meetings with her, I made the choice to switch to fire protection and I'm so glad that I did.
What's been the best thing about your academic experience here so far?
The best thing about my academic experience has been the hands-on experience I have gained from my engineering classes. I learn the best when I am able to directly apply what I am being taught. In many of my engineering design courses and especially in my fire protection courses, I have completed numerous projects that have allowed me to directly apply the information I am learning in class and learn skills like collaboration, meeting deadlines, and problem solving.
Which has been your favorite class, and why?
My favorite class was definitely ENFP101: Introduction to Fire Protection because it served as confirmation for me after switching into the major. I was nervous, having only spent a semester in college and I was already changing my future plans. While in the class we were taught the basics of the science and engineering behind studying fires and what we as engineers can do to protect people, structures, and the environment which intrigued me. The semester project however, sealed the deal for me. I loved being able, in my very first fire protection class, to get hands-on experience and build a model dorm room outfitted with detection and suppression systems to extinguish a fire. And as an added bonus, we were the only team able to put out our fire!
Which is the hardest class you've taken?  Any suggestions for other students on how to manage it?
The hardest class I've had to take so far was CHEM135. Fresh out of high school, I hadn't learned the most effective way for me personally to study. I had to learn the hard way that in college you have to take the responsibility to teach the material to yourself and constantly review new material, even if you attend lecture. My advice would be to make sure to spend time figuring out your learning and studying style because it will allow you to spend less time simply going over tons of material but not really absorbing anything.
What activities are you involved in outside of the lab/classroom?
Outside of the classroom I am a member of the Black Engineers Society (BES) and I am a volunteer for the Clark School Initiative program in BES. Clark School Initiative is basically a support program for students in Letters in Science seeking admission into the A. James Clark Engineering school. We offer advice on four year plans, classes and professors to take, and help with difficult classes. I also co-founded and direct an after school program called Sisters in STEM (SIS) at College Park Academy, a nearby charter school. A fellow fire protection student and I started this program in order to address the lack of minority representation in S.T.E.M., particularly among women. Our program serves to provide support, peak interest, and advocate for underrepresented females in S.T.E.M. for middle and high school girls through tutoring, presenting information about S.T.E.M. careers and majors, and overseeing S.T.E.M. projects each semester. I am also a member of the Society of Fire Protection Engineers (SFPE).
What are your post-graduation plans?
Since joining fire protection engineering, I have become very interested in life safety analysis. After graduation, I intend to gain my professional engineers license and work in consulting for life safety analysis. I also would like to continue my efforts in working to promote diversity and inclusion in STEM by using my engineering background and join or start efforts that promote greater minority participation in S.T.E.M.
During her tenure, Favour has received the following:
University of Maryland Honors College: University Honors
Herbert Rabin Endowed Scholarship in Engineering (2015-16)
SFPE Greater Atlanta Endowed Scholarship in Fire Protection (2016-18)
CMSE 37th Annual Student Recognition and Alumni Celebration Academic Award (2018)
Top