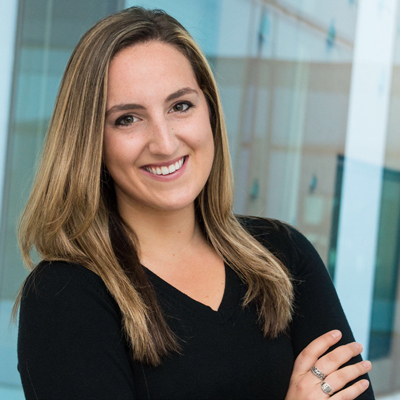 It was exciting to utilize what I learned in my FPE program
In 2015, FPE alumnus, Christine Pongratz, joined the Arup Group as a fire engineering consultant. Based in the London office of the multinational firm, Pongratz is tasked with developing insight on the international approach and practices to fire engineering.
Although she has worked on projects in a variety of industries including sports and theatrical venue; rail, education and healthcare, Pongratz's highlight since joining Arup has been assisting in the development of the fire safety strategy for the main stadium of the 2022 Football World Cup located in Lusail, Qatar.
Pongratz said she also enjoys projects that introduce technical engineering challenges, and has recently participated in a unique project with Arup's fire team that commemorated the Great Fire of London (http://ter.ps/LondonFire ).
"I helped lead the research initiative and technical analysis for the project, which involved a significant qualitative review of academic research papers along with quantitative analysis methods to assess the impact of the burning barge," she said. "It was exciting to utilize what I learned in my FPE program, providing fire and life safety advice to the London event planners and fire brigade, enabling the recreation of a pivotal event in the city's history."
In her spare time, Pongratz invests significant time as a STEM ambassador, acting< as a professional mentor for London high school students. She recently participated as the lead mentor for a 6-month program in which the students applied the concept of adaptive reuse to turn an abandoned underground tube station into a shelter for the homeless.
Pongratz's research led to the development of a technical paper, related to her University of Maryland Master's thesis entitled, "A CFD Study to Identify Methods to Increase Maximum Velocity of Make-up Air for Atrium Smoke Control." Pongratz presented this research at the 2016 ASHRAE Annual Conference, and earlier this year, she recieved an award for the 2017 ASHRAE Best Technical Paper.
Top