University of Maryland to Host 3rd Annual Safety Demo on Christmas Tree Fires
MEDIA ADVISORY December 1, 2016
CONTACT:
Katie Doyle
(301) 405-0379
khollan3@umd.edu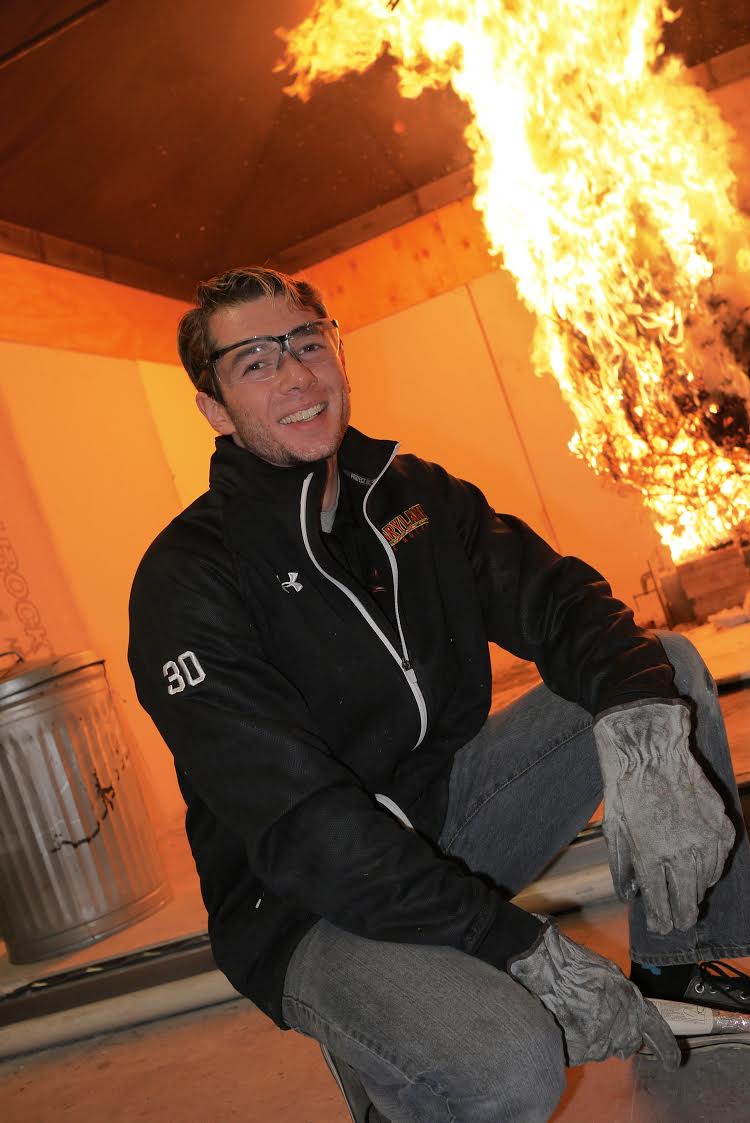 College Park, Maryland
The Department of Fire Protection Engineering at the University of Maryland's A. James Clark School of Engineering will host its third annual Christmas tree fire safety demonstration on Wednesday, December 14, 2016 at 8:00 a.m.
WHAT

The demonstration will consist of a series of live fire experiments on both natural and artificial Christmas trees to show the burning behavior (size, intensity, and growth rate) of typical Christmas tree fires. These experiments will demonstrate the impact of moisture content on ignition, fire growth rate, and peak burning behavior.
WHY

Christmas tree fires are five times more deadly than the average house fire. According to the National Fire Protection Association (NFPA), U.S. fire departments respond to an annual average of 230 home structure fires that begin with Christmas trees. Each year, these fires cause, on average, six civilian deaths, 22 civilian injuries, and $18.3 million in direct property damages. One of every 31 reported home Christmas tree fires resulted in a death, compared to an average of one death per 144 total reported home fires.
WHO
The experiments have been designed and will be conducted by Dr. Isaac Leventon, a Department of Fire Protection Engineering alumnus and NRC Postdoctoral Research Associate with the NIST Fire Research Division.

WHEN
Wednesday, December 14, 2016 @ 8:00 a.m.
Registration required: http://go.umd.edu/umd2016burn
WHERE
Department of Fire Protection Engineering, JM Patterson Hall, University of Maryland, College Park, MD 20742. Visitor parking is available on the top level of the Regents Drive garage. Follow this link for a detailed campus map: http://www.transportation.umd.edu/parking/maps/map_visitor.pdf
MORE INFORMATION
For additional information, please visit http://fpe.umd.edu/christmasfiresafety
More Information:
About UMD's Department of Fire Protection Engineering
In 1956, the Department of Fire Protection Engineering was established within the College of Engineering at the University of Maryland. To date, the department offers the only fully accredited undergraduate program and one of three graduate degree programs in the United States. More than 1,100 graduates from the Department are now employed in industry, insurance companies, Federal, state or local government, military, and fire service.
About the A. James Clark School of Engineering
The University of Maryland's A. James Clark School of Engineering is a premier program, ranked among the top 20 in the world. Located just a few miles from Washington, D.C., the Clark School is at the center of a constellation of high-tech companies and federal laboratories, offering students and faculty access to unique professional opportunities.
Our broad spectrum of academic programs, including the world's only accredited undergraduate fire protection engineering program, is complemented by a vibrant entrepreneurial ecosystem, early hands-on educational experiences, and participation in national and international competitions.
The Clark School is leading research advancements in aerospace, bioengineering, robotics, nanotechnology, disaster resilience, energy and sustainability, and cybersecurity. From the universal product code to satellite radio, SMS text messaging to the implantable insulin pump, our students, faculty, and alumni are engineering life-changing innovations for millions. Learn more at www.eng.umd.edu.