Start-up Born in UMD FPE Receives $1.2M Investment from Newly Established Maryland Momentum Fund
MF Fire, created by FPE Alumni Ryan Fisher and Taylor Myers, is the recipient.
FOR IMMEDIATE RELEASE November 9, 2017
CONTACT:
Katie Doyle
301-405-0379
khollan3@umd.edu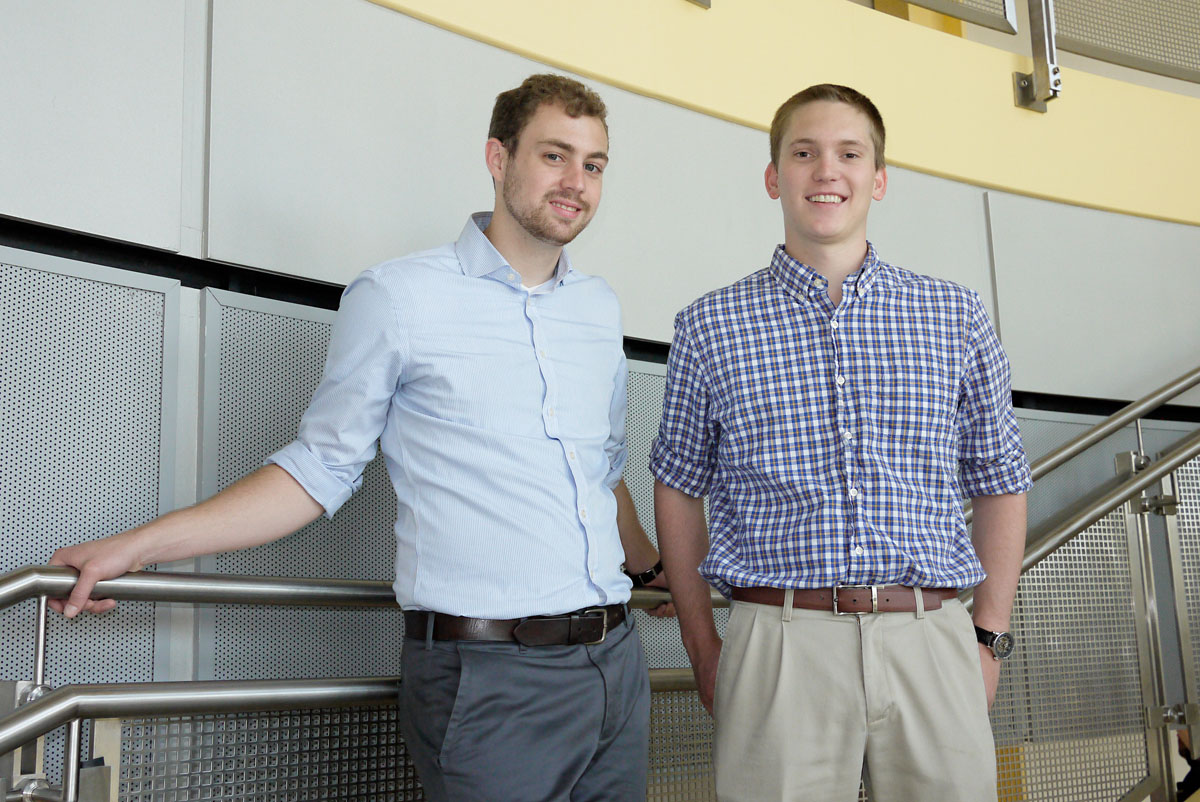 Baltimore, Md. – MF Fire, a Baltimore-based start-up company offering clean-energy efficient wood stoves at an affordable cost, is the recipient of the first investment - $1.2 million – from the recently established Maryland Momentum Fund offered by the University System of Maryland (USM).

The USM Board of Regents created the $25 million fund in 2016 to enable the system to invest in and support promising commercial opportunities arising from advances in research and intellectual property at USM campuses. Other critical sources of money in the $1.2 million funding round include Bill Clarke, a leading clean tech investor.

MF Fire originated at the University of Maryland Department of Fire Protection and Engineering (FPE), which offers the only fully accredited undergraduate program of its kind in the U.S.

In 2012, FPE students Ryan Fisher (MS '14) and Taylor Myers (PhD '16) were challenged with developing an eco-friendly "next-gen wood stove." Together, the duo assembled a team and created a wood-burning stove, dubbed Catalyst, that differs from traditional models in that, utilizing 'smart' technology, users can control the stove's temperature remotely from a phone or tablet. The internal sensors of each stove allow wood to burn more efficiently, so it lasts longer and burns nearly 60 times cleaner.
Fisher - the company COO - and Myers – the CTO – have teamed up with 28-year business veteran and entrepreneur Paul LaPorte (CEO) to develop a commercial model for the company.

"With our Catalyst smart wood stove, MF Fire is pushing the bounds of what is possible in wood heat. For the first time, consumers can expect a clean, safe, efficient and effortless wood stove experience – something totally familiar, yet completely modern," said LaPorte, the MF Fire CEO. "We have reimagined wood fire as a clean energy source, and used state-of-the-art fire science and technology to bring that vision to life – one that deserves a prominent place, whether in a modern smart home, or a rural cabin."
The team was relieved to learn about the USM investment opportunity.
"There aren't many venture capital funds in this area, so we applied immediately," said Fisher. "We actually pitched our idea to the Maryland Momentum Fund twice, and were thrilled when we heard about their investment."
David Wise, a longtime regional business innovator now serving as director of the Maryland Momentum Fund stated, "We are very excited to have MF Fire as the initial investment from the Momentum Fund. The company offers an efficient product based on combustion science and it emerged out of a center of excellence at the University of Maryland."
Fisher and Myers are both originally from Frederick County. They went to school at the University of Maryland and then started their business in Baltimore, so it's fitting that they are now receiving an investment from USM.
"It's definitely a point of pride for us to keep this entire process so close to home," Fisher continued. "We plan to use the funds to increase the visibility of MF Fire around the U.S. and Canada, and to aid in the development of a second product, which will be lower cost and available next winter."
About the A. James Clark School of Engineering
The University of Maryland's A. James Clark School of Engineering is a premier program, ranked among the top 20 in the world. Located just a few miles from Washington, D.C., the Clark School is at the center of a constellation of high-tech companies and federal laboratories, offering students and faculty access to unique professional opportunities.
Our broad spectrum of academic programs, including the world's only accredited undergraduate fire protection engineering program, is complemented by a vibrant entrepreneurial ecosystem, early hands-on educational experiences, and participation in national and international competitions.
The Clark School is leading research advancements in aerospace, bioengineering, robotics, nanotechnology, disaster resilience, energy and sustainability, and cybersecurity. From the universal product code to satellite radio, SMS text messaging to the implantable insulin pump, our students, faculty, and alumni are engineering life-changing innovations for millions. Learn more at www.eng.umd.edu.