FPE Team Takes Second Place in Clark School Alumni Cup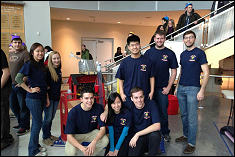 The Alumni Cup is an annual engineering design competition started in 2012 by the University of Maryland Alumni Association, Engineering Chapter. Teams of students from each department compete in this week-long challenge to develop a machine that will perform a specific task. Teams are judged on the machine's effectiveness, a demonstration within the design of the team's respective discipline, an oral presentation, and rough sketches in correlation to the design and team spirit.
For 2013 the competition was held in the Kim Building lobby on Feb. 22. The team from Fire Protection Engineering took second place. The team members were Matt Kim, Geraldine Martin, Richard Mellish, Joe Praydis, Kevin Ruth, Josh Swann, Angela Wu, and Sophia Wu. The team was able to incorporate the fire tornado with a fully functional sprinkler head for suppression. FireGuard generously donated the sprinkler heads and other material.
Visit the Alumni Cup page for more information.
Published March 7, 2013