FPE Students Engineer Fire Safety Products for the Chance to Win a Scholarship, Possible Product Development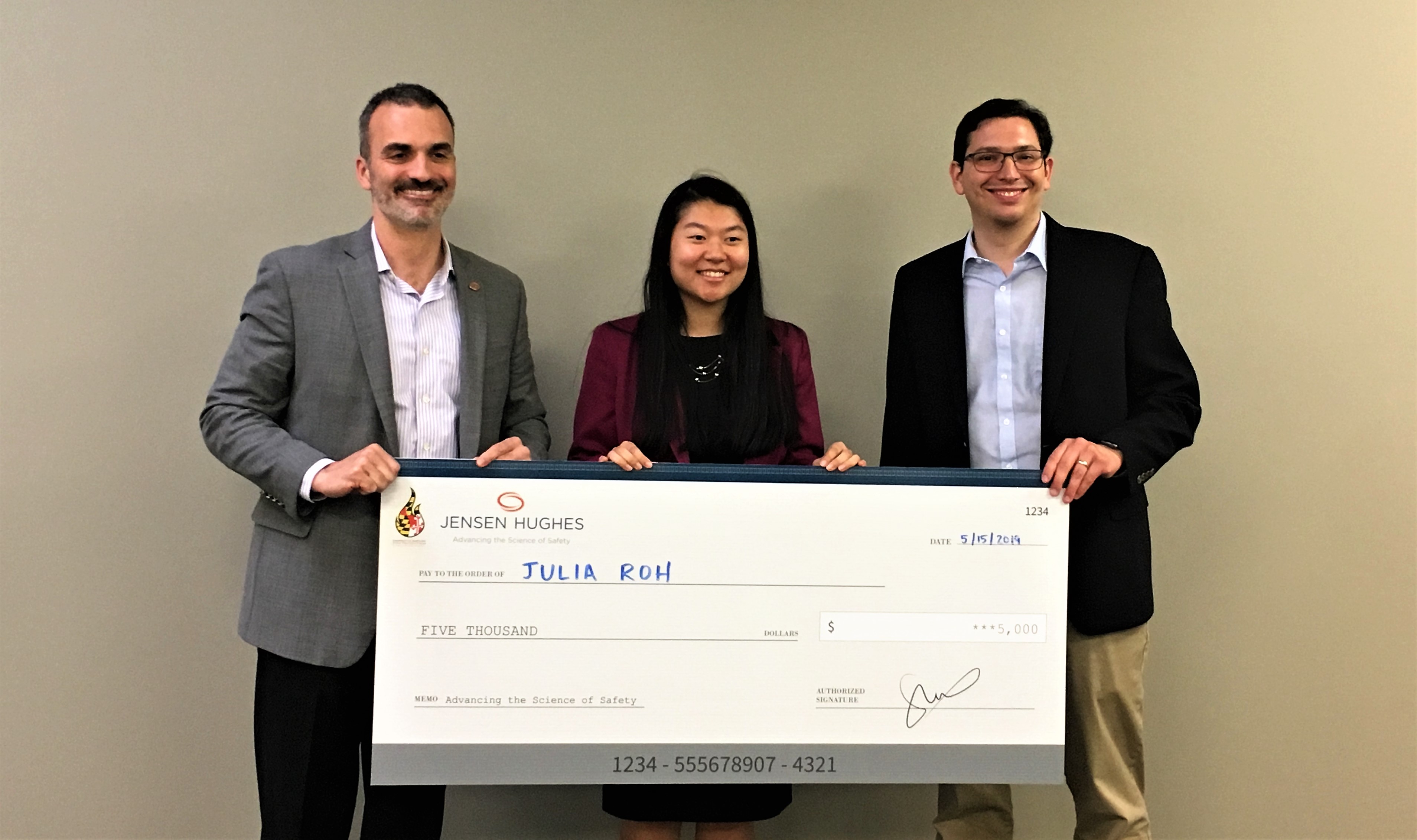 On May 16, undergraduate students in the Department of Fire Protection Engineering (FPE) at the University of Maryland (UMD) presented their designs for a fire protection industry product to a panel of judges at Jensen Hughes (JH), one of the largest fire safety engineering and consulting firms in the world, headquartered in Baltimore. 2019 marked the third year that FPE has collaborated with JH on the ENFP 429 course - an independent study option, also known as the 'Think Tank' course - that combines hands-on engineering with business and marketing strategies. Each year, the students design a fire safety product, and compete to win the Richard G. Gewain Scholarship, which comes with a $5k cash prize in addition the possibility of JH developing the winning product.
This year, Julia Roh took first place for her project, entitled, "WareSafe" – a self-contained fire protection device that incorporates both detection and suppression, intended to be used as an attachment for existing robots in automated grid warehouses.
"I liked the class because it allowed me to learn more about the business side of the field, and see what it might look like to be part of a start-up, although you have to do a lot of the research and learn some of the business aspects on your own," Roh said. "It's also provides great networking opportunity."
Christian Fisher took second place for his product, "Easy Exit" – a smart and adaptive lighting system that directs occupants of a building towards the nearest exit, utilizing animated LED lighting to display the direction of travel. The system can be combined with a building fire alarm system. Using data acquired from the smoke detectors, the system will select the safest exit route, avoiding flames that may block an exit or hallway. The lighting can be installed in the floor, or even on the wall molding.

"The Think Tank course has been a great experience," said Fisher. "The class gave me insight on what it takes to develop a product, and build a business model tailored to that product and the target market. Professor [Michael] Gollner has been a great instructor for this course and provided good feedback throughout the process. I highly recommend this class to anyone who has been interested in the intersection of business and engineering!"
Fisher will receive $3k in scholarship funds for his idea. Additional course participants included Thomas Good, Christopher Chen, Fawad Malik and Harris Sorkin. This semester, the course was taught by FPE Associate Professor, Michael Gollner.
"I was impressed with the innovative ideas the students developed to advance the state-of-the-art in fire and life safety," said Gollner. "From firefighting warehouse robots to new directional lighting in buildings, students applied their engineering skills to the problem and had a chance to learn about entrepreneurship, innovation and business development. Working with Jensen Hughes mentors was a huge benefit for students in the course, allowing them to interact with and learn from experts in the field."
The 2019 JH judges were Pam Butziger (Vice President of HR), Pete Costa (President of Operations), Christine Sauer (Director and UMD alumna) and Brian Rhodes (Operational VP of Mid Atlantic and UMD alumni). The JH mentoring team included Scott Golly (UMD alumni), Josh Dinaburg (UMD alumni), Chris Moran (UMD alumni), Derek Snow and Courtney Myers (UMD alumna).
Related media:
FPE and Sponsor Jensen Hughes Offer Holistic 'Think Tank' Course – May, 2017, UMD
https://fpe.umd.edu/news/story/fpe-and-sponsor-jensen-hughes-offer-holistic-lsquothink-tankrsquo-course
Published May 31, 2019