FPE and Coffman Engineers Team Up to Discuss Epidemic Preparedness in Public Spaces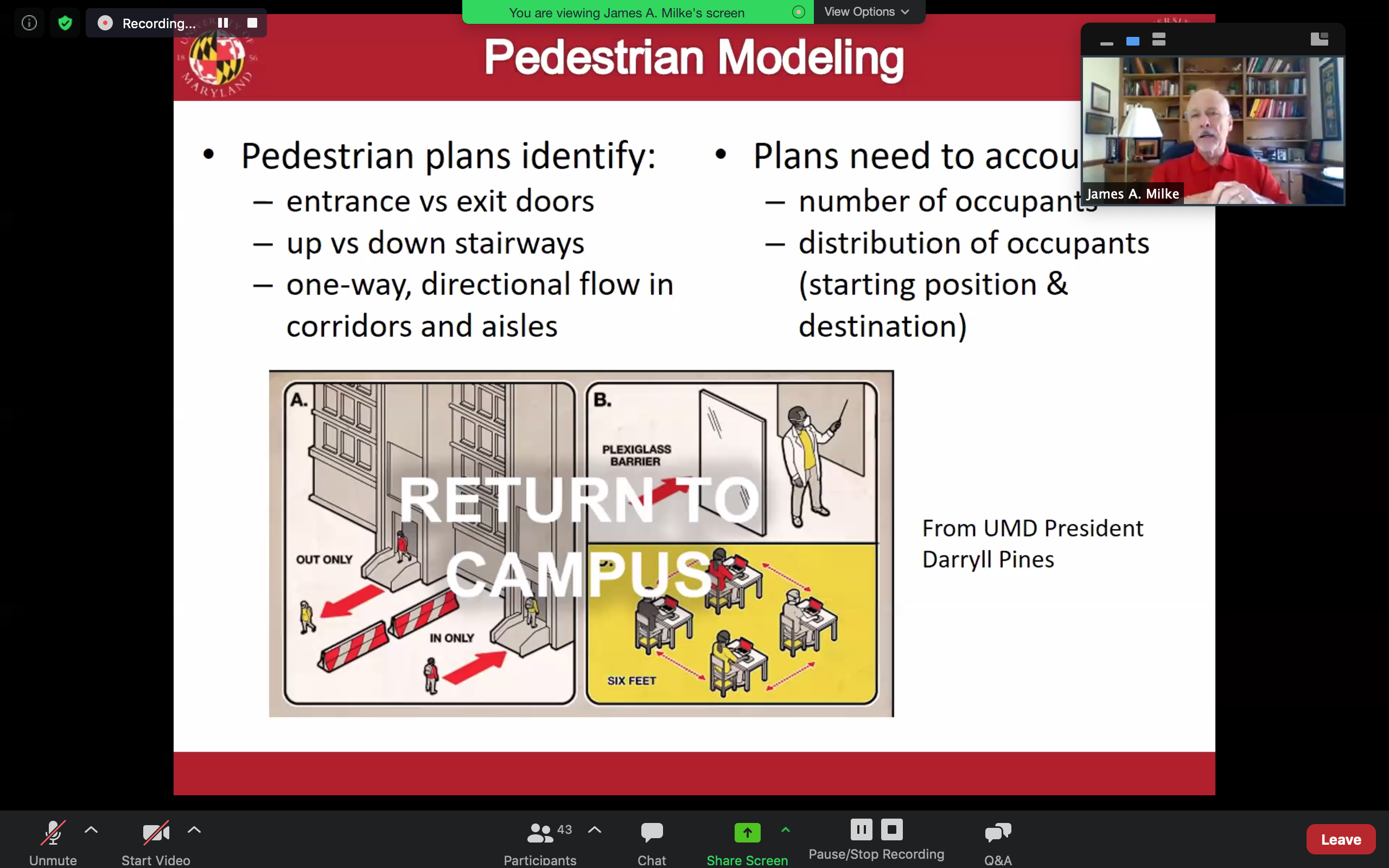 The UMD Department of Fire Protection Engineering (FPE) is offering a series of webinars in their non-degree program geared towards social distancing in public buildings during the COVID-19 pandemic. The FPE Non-Degree Program is a continuing education series geared towards people in the fire safety field who are looking to either gain new skills, or refresh old ones.
On July 28th, FPE Professor and Chair, James Milke, in collaboration with Traci Hanegan, principal and mechanical engineer at Coffman Engineers, gave a virtual presentation on Epidemic Preparedness for our Buildings. Hanegan also serves on the ASHRAE Epidemic Task Force – formed to deploy technical resources to address these concerns and provide options to various facilities that can assist with safe operation – and answered questions during the presentation about the technical guidance the Task Force has developed.
"There are many questions surrounding the current COVID-19 pandemic," said Hanegan. "As more research is developed, we are learning more about how the virus is transmitted and the steps we can take to reduce the spread. Wearing masks and staying home are great options, but how can we modify the built environment to mitigate risk?"

The duo's discussion offered the most recent understanding of SARS-CoV-2 transmission pathways and suggestions for bolstering building HVAC systems.
On June 25, Milke and Robert Gerard, a fire protection engineer also at Coffman, spoke on the topic, COVID-19: Social Distancing Simulation for Public Buildings and Spaces.

"While approaching a new phase in the ongoing pandemic, we're challenged to navigate the new normal and reenter potentially densely populated, highly social environments such as offices, malls, theaters and other venues," said Gerard. "It's natural to question current reentry approaches, while complying with local, state, and national guidelines. Pedestrian simulation modeling offers a way for us to simulate best practices and assist clients in their reopening plans."

The fire protection industry has applied various methods to repurpose engineering analysis and modeling software used for life safety analysis to identify and confirm how social distancing practices can be achieved in everyday dynamic environments. This digital due diligence involves replicating the built environment and developing digital models to simulate best practices like crowd spacing control, screening and one-way directional travel to satisfy business needs and promote reopening practices that are feasible and effective.
Additional webinars will be offered throughout the summer and fall semesters. Check the FPE Non-Degree Program page for additional information and updates.
Follow the links below to watch recorded versions of the presentations:
Published August 6, 2020