Baum Honored with Sjӧlin Award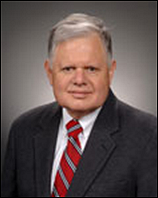 Glenn L. Martin Professor Howard Baum (fire protection engineering) is a member of the Fire Dynamics Simulator (FDS) Development Team selected to receive the Sjӧlin Award for 2012. The Sjӧlin Award, presented by the International Forum of Fire Research Directors, recognizes an outstanding contribution to fire science or an advance in the state of the art in fire safety engineering practice of extraordinary significance. It is presented each year to the individual or group of individuals whose efforts are primarily responsible for or traceable to the specific advance.
Baum has been recognized for his outstanding contributions over the years to the FDS Development Team and the resulting impact of the team's work on the advancement of fire engineering around the world. FDS represents the most widely-used computation fire engineering tool in both research and industry.
The 2012 Sjӧlin Award will be presented to Baum and his teammates at the next symposium of the International Association of Fire Safety Science to be held in 2014.
Baum, a member of the National Academy of Engineering since 2000, is retired from the National Institute of Standards and Technology, where he was research physicist and fellow.
Published June 7, 2012