Class of 2021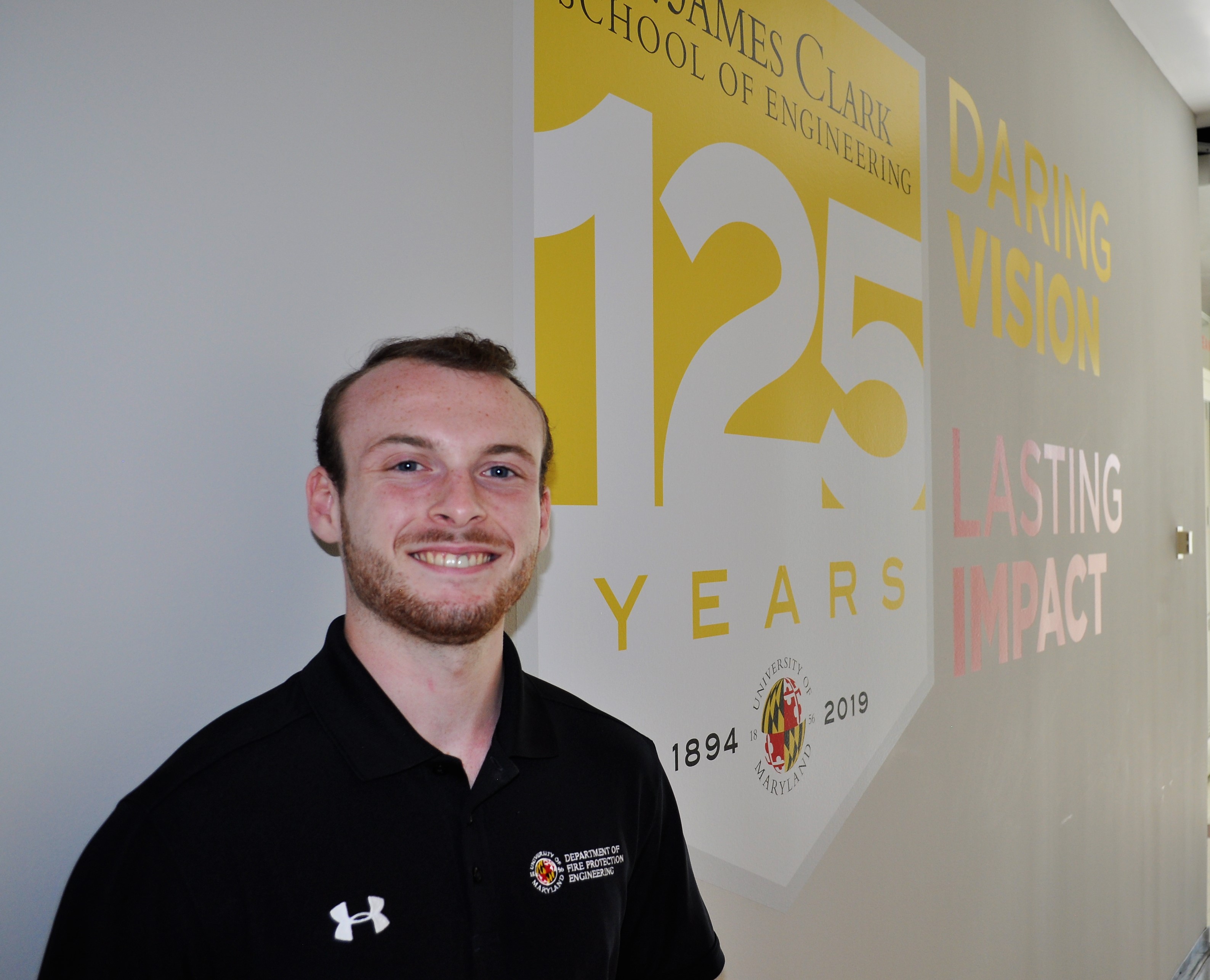 Hometown: Rockville, MD
High School: Thomas S. Wooton H.S.

"My favorite thing about FPE is how close the major is, both in terms of the student body and the relationship between students and professors. I've received opportunities here I couldn't have dreamed of coming into college due to the faculty's welcoming attitude and departmental support. With the Department's research activities and the recruitment tours I conduct through the ambassador program, it's always a lot of fun to light things on fire!"
Why did you choose Fire Protection Engineering over other STEM majors?
I chose this major because I felt like it was extremely unique and provided excellent opportunities to actually make an impact on society, both in that the field is relatively young, so there's still plenty of things to discover, and that the work we do is directly tied to protecting people's lives and property.
What do you value most about the Department and your time with FPE?
I really value the relationships I've formed and the opportunities I've had in this department, above every other fantastic part of it. To elaborate, I feel like one experience I've had in this department that exemplifies this is the Sophomore Research Experience program, where I had the opportunity to work directly with a faculty member on a bleeding-edge research project. Just the fact alone that the department let a sophomore become so involved in a research project, let alone that the faculty member responsible for the research dedicated time to meeting with me and helping me understand the research process, really meant a lot to me. 
How else are you involved in the campus community, either in or outside the Department?
Other than the Ambassador program, within the department I'm also involved in the Society of Fire Protection Engineers, the Salamander Honor Society, and research, currently with a project focused on developing an incident response training seminar for local fire departments. Outside of the department, I recently "graduated" from the Virtus Living and Learning Program, have a lot of experience with UMD's chapter of Engineers Without Borders, and serve as a  Teaching Fellow for the Keystone Program, where I currently help to teach the HONR288O: Why Do Things Fail? course. Outside of this, I really enjoy cooking, working out, and hanging out with friends. 
When you're not in class, or serving the Department, where can you be found?
I lead a pretty exciting life, so I'd have to go with the FPE computer lab working on homework. 
What is the best thing about UMD?
My favorite thing about UMD has been the friend's I've made and the professional development opportunities I've had here, I can honestly say that coming to this school as help me grow myself positively in a countless number of ways. 
Any last words for prospective students?
Make the most out of your time here, and enjoy it! Coming to a school as highly regarded as UMD provides you with a wealth of opportunities to take advantage of for pretty much any interest you have, but its also important to take some time to relax and fully enjoy your college experience every once in a while.
Top